Orders are processed and shipped Monday through Friday, not on weekends nor holidays, and typically within one to two business days. Please allow for additional processing time during high volume periods, such as during holidays and promotional events.
Selecting an expedited shipping service (Next Day Air, 2nd Day Air, etc.) does not guarantee a same-day nor next-day shipping date.
Shipping via UPS
Unless an expedited shipping method is selected, KRYTAC ships most orders via UPS Ground service.
UPS has suspended their Service Guarantee for most shipping services. Only UPS Next Day Air service is guaranteed. Any delays are out of KRYTAC's hands as we do not operate our own delivery service. No refunds on shipping will be issued due to packages being delivered later than expected.
Typical time-in-transit via UPS Ground service from KRYTAC as of the Source Date noted below: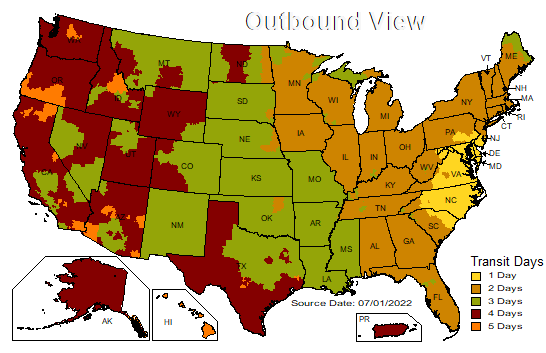 Subject to the Tariff/Terms and Conditions of Service, UPS guarantees on-schedule delivery of packages, shipped via UPS's services, that are listed as guaranteed, or will refund your transportation charges. Guaranteed Service is not available in all areas and does not apply to shipments containing a package with an Additional Handling or Large Package surcharge. Scheduled business days and delivery schedules are revised occasionally due to changes in distribution and volume, especially during holiday periods. Service to some remote areas also may require additional delivery days. For current delivery schedules, service availability and information, and a description of the UPS service Guarantee, see the UPS Rate and Service Guide. The most up-to-date transit time details will be available at ups.com/ctc at the time of shipping. Certain commodities and high value shipments may require additional transit time for customs clearance.
Shipping via USPS
Orders that qualify for USPS Priority Mail shipping are delivered by the United States Postal Service typically within two to three business days. Orders within Virginia near and around Chesapeake are typically delivered in one business day.